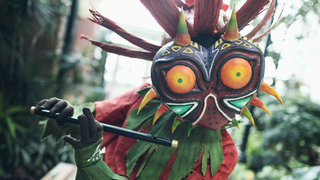 "Hehehehehehehehehe"
The Legend of Zelda: Majora's Mask is, by far, my favorite zelda game. The dark tone, off-beat adventure, and bizarre Skull Kid gave me the creeps in a good way.
And I'm getting that good creepy feeling just looking at these amazing pictures of Skull Kid by Shikarius Cosplay, and photographer apprivoise took during Katsucon 2014.
---
Cosplayer: Shikarius cosplay Photographer: apprivoise
via GeekxGirls
---