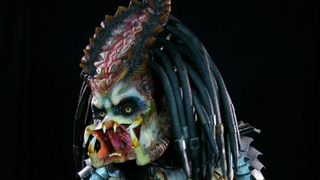 Sometimes amazing cosplay doesn't feature impeccable sewing or leather work, but expertly applied body paint.
This Predator cosplay, modeled by Melissa and painted by Marshon, looks thoroughly scary. The mask is grotesque, and her comic-book style armor blends thoroughly with superbly painted alien skin.
Change out the large Predator mask for a smaller Predator helmet, and this cosplay would have been pitch-perfect!
But, really, mask or no mask, this body paint looks out of this world.
---
via nerdbodypaint | model: Melissa | photography/painter/etc: marshon
---